Ever since this blog was created, the link for my baby's album "The Little Prince" is wrong. Never had time to change it, perhaps never bothered. :p
Anyways I've already corrected the link, so it's viewable. Those interested, can also
So, what happened yesterday?
Seems like my baby turned out all right at the end of the day, 'cept for a slight bump on his forehead, which he got while playing 'cak cak' with my hubby. Once when my hubby cak, he kinda had a fright and in his excitement knocked his head against the bed.
Well, that's nothing out of the extraordinary; all babies will, at one point in time (normally more often) either fall or knock their heads or injure themselves in one way or another. That's how life works. That's no way we can totally prevent these things from happening.
So, with that said, I declare that my hubby has passed the
True Test of Fatherhood
with flying colours. He even learnt something from yesterday. He now knows how difficult it is for me if I'm doing all the work in the house while looking after a baby and he has promised that he will help out more often.....yeay! good for me!
On to more depressing issues....FRIENDS is over!!!! *bawls* Gosh, I just can't believe it, my most favourite sitcom in the world won't have any more new season. After 10 years of wonderful seasons.

I live everyday just to watch FRIENDS on Monday nights.
And to see Joey make a fool of himself.
And to see Chandler spout lame jokes.
And to see Monica obsess and organize.
And to see Phoebe creating her impromtu songs.
And to see Rachel always her fashionable self.
And to see Ross with his dinasours....
My Monday nights will no longer be the same. Hope TCS shows reruns of all the previous seasons.
The ending was great, there were a lot of mixed emotions...sad, happy, not to forget funny...and just plain TOUCHING...it was soo sooo touching. And yeah, of course I cried, silly me.
zany dzf at 2:01 PM :: zany dzf |

Monday, September 13, 2004
Alone @ Home with Daddy


Today my hubby will be sitting through the True Test of Fatherhood. He is currently alone at home with my baby. *thinking abt that Will Smith Song* (Wat's it called? Just you and me?) *scratches head*
Since my MIL can't look after Mikail today and since my hubby is not working, he's left with no choice. *evil laugh* Well, I just have this to say...
IT'S ABOUT TIME MY DEAR
.
In spite of that, you have my full vote of confidence. I know you can do it, u're just plain LAZY.
Anyway, my hubby told me that the moment the little tyke woke up, he was looking for me. He kept saying "Mama, mama, mama...". And he actually crawled to each and every room searching for me. Awww...my heart's melting. Tho' at times he truly tests my patience.
So, let's see how things turn out at the end of the day.
zany dzf at 1:33 PM :: zany dzf |

Thursday, September 09, 2004
Warmth of the sun


I was on the way home yesterday on the SLE when I saw this: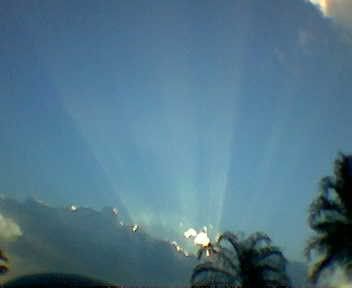 It was beautiful! So panaromic! Eventhough there was a huge gigantic cloud covering the sun, you can see the sun's rays reaching out.
The pic is blurry coz I used my Nokia 7250 to capture it, pic resolution is not good.
zany dzf at 5:49 PM :: zany dzf |

Tuesday, September 07, 2004
Zzzzzzzzz


I'M.FALLING. ASLEEP. AT. MY. DESK.....zzzzzzzzzzzz
*opens eyes sleepily and thinks about pile of work to do*
*closes eyes again*
zzzzzzzzzzzzzzzzzzzzzzzzzzzzzzzzzzzzzzzzzzzzzzzzz
zany dzf at 9:21 AM :: zany dzf |

Sunday, September 05, 2004
Last Saturday


Last Sat, Eryanta's family and mine were supposed to meet up for a picnic at East Coast. Instead, we "picnicked" at my house and later Esplanade.
The two babies, born a month apart...matchmade by the ever-so-thoughtful parents :)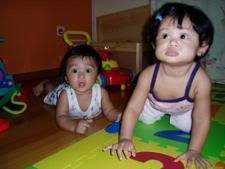 Eryanta with Mikail, n me with Adelia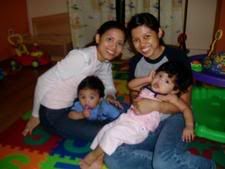 Now all set and ready to go. My hands almost gave up under the weight of the two kids.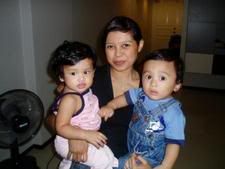 Our families, posing in front of the Merlion. Mikail already lulled to sleep by the sound of the waves...yeah, right! More like from sheer exhaustion...hehehe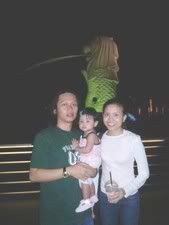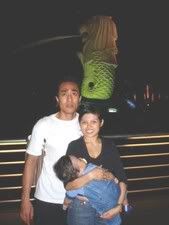 Filched these photos from Eryanta since I didn't bring my digicam...thanks gal!
zany dzf at 1:27 AM :: zany dzf |