Finally, after 2 weeks ++ of no updates, today I will post a short and to-the-point entry. No time for fancy stuff....hehehe.
My Genting album is ready, so for any interested parties, you can
click here
.
And I'm giving a shout out to
my sis
. Welcome to the blogging world!
Oh, and before I forget...Mikail is 10 mths old today. Just 2 more months and he'll be a year old! How time flies! Happy 10 mths sunshine! Mama & Papa lup u so so much.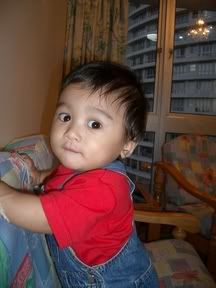 Some updates on my cute lil mischevious rascal:
He's still crawling...he crawls very fast as if he has no time to waste! :)
He's climbing EVERYWHERE!
He's standing with help from a support like a table or human being, etc.
He has one teeth on top, halfway out. Another teeth beside just breaking through the gums
He's very noisy, even when he plays on his own
He loves to growl..yup GROWL, no kidding.
zany dzf at 10:19 AM :: zany dzf |

Friday, August 06, 2004
Happy Holidays!


It's Friday again! Time to PPPAAAARRRRTTTYYY! Esp with the long weekend.
Moi going to Genting tomorrow with my family. So excited. Can't wait to take the rides, love thrill rides...hehe, I sound like a 10-yr old....ahaks.
Furthermore haven't been on a holiday since my honeymoon. That was like one and a half years ago. Hey, I deserve this break!
Only thing that's dampening my spirit a bit is my baby (the big one) can't come along coz he couldn't take leave. That's the problem with shift work, when everyone else are on holiday, they have to work...poor hubby. I'm gonna miss him a lot. He's gonna be alone on Sunday and Monday without Mikail & me to keep him company...dun miss us too much ya!
Wanna know wassup with THE HOUSE? Well, THE HOUSE just decided to spring on us a GAS LEAK. *banging my head on the wall* Tak habis2 ke problem?? Bila nak pindah seh..
And the best is, the pipe that's leaking is behind a cornice *bangs head harder*...
SO, the contractor has to bring it down, repair the leak and patch back the cornice..bbleeaagggh
Dunno how much
that's
gonna cost..
Ni'way dun wanna think too much on that...nothing's gonna spoil my weekend getaway..
C ya next week peeps!
zany dzf at 11:29 AM :: zany dzf |